Watch My Commercial Reel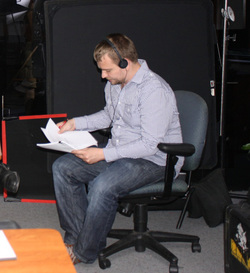 Dan Kowalski is a freelance commercial director with a knack for comedy. He is based in the New York City area. Dan brings a passion for storytelling to every project he takes on. He especially enjoys the creative challenges that come with professionally directing commercials. To him, the 30 and 60 second time constraints enables the director to create high quality work that entertains an audience while also communicating a clear message. Some of his clients include Access Self Storage, Staff IT, Roomster.com, and the Words and Pictures Advertising Agency.
Dan is a graduate of the University at Buffalo's Media Study program. While he was in his senior year he produced and directed his first major work, a feature film called "The Scoop" which had some film festival success. In addition to commercials Dan has directed a web series ('Marty and Doug's New Religion'), a TV pilot ('Overcrowded'), music videos, and an award winning documentary (Forgotten New York: Collect Pond). His latest non-commercial project is a short film called 'Greg's Guardian Angel' that is currently making it's way around the film festival circuit. Some of the festival it has screened at include the 2013 Big Apple Film Festival, the 2013 Long Island Film Expo, and the Golden Door Film Festival of Jersey City.
Please take a look at the videos below to see some of his individual directing work.
Dan can be reached at
631-786-6342
. You can also e-mail him at
Dan@PhalanxVideoProductions.com

---